Age of Conan - Hyborian Adventures - Guide
Ooit had je noch een naam, noch een verleden, maar een nieuw dag wordt ingeluid door een verwoestende storm. Om je verleden op orde te zetten moet je op reis door de woeste dalen van de Aquilonians, de Cimmerians, de Stygians, en verder...

- Benut je tijd waardevol met deze guide vol mappen van de regio's, steden, quest en vijand informatie.
- Gedaan met de point & click RPG of de auto-aanval: in Age of Conan moet de speler meer doen om de gevechten goed te beëindigen. Deze gids geeft je alle info om effectief in battles te zijn.
- De 12 klassen zijn allemaal opgenomen met uitleg over de vaardigheden, skill point allocatie en tips voor solo-farmers en groepspelers.
- Crafting data voor beginners én ervaren spelers
- Inclusief PvP mappen
NEW
Productcode: 120481
Ooit had je noch een naam, noch een verleden, maar een nieuw dag wordt ingeluid door een verwoestende storm. Om je verleden op orde te zetten moet je op reis door de woeste dalen van de Aquilonians, de Cimmerians, de Stygians, en verder...

- Benut je tijd waardevol met deze guide vol mappen van de regio's, steden, quest en vijand informatie.
- Gedaan met de point & click RPG of de auto-aanval: in Age of Conan moet de speler meer doen om de gevechten goed te beëindigen. Deze gids geeft je alle info om effectief in battles te zijn.
- De 12 klassen zijn allemaal opgenomen met uitleg over de vaardigheden, skill point allocatie en tips voor solo-farmers en groepspelers.
- Crafting data voor beginners én ervaren spelers
- Inclusief PvP mappen
Lees meer
Beschikbaar in winkels. Bekijk winkels met voorraad.
Momenteel niet beschikbaar
Gratis verzending

vanaf 30 euro

Betaal veilig online

via je eigen bank

Ontvang coins

& unlock badges met Game Mania XP (meer info)
Ooit had je noch een naam, noch een verleden, maar een nieuw dag wordt ingeluid door een verwoestende storm. Om je verleden op orde te zetten moet je op reis door de woeste dalen van de Aquilonians, de Cimmerians, de Stygians, en verder...

- Benut je tijd waardevol met deze guide vol mappen van de regio's, steden, quest en vijand informatie.
- Gedaan met de point & click RPG of de auto-aanval: in Age of Conan moet de speler meer doen om de gevechten goed te beëindigen. Deze gids geeft je alle info om effectief in battles te zijn.
- De 12 klassen zijn allemaal opgenomen met uitleg over de vaardigheden, skill point allocatie en tips voor solo-farmers en groepspelers.
- Crafting data voor beginners én ervaren spelers
- Inclusief PvP mappen
Productspecificaties
| | |
| --- | --- |
| Releasedatum | 11.06.2008 |
| EAN | 9780744008036 |
| Merk | Guides |
Koop nu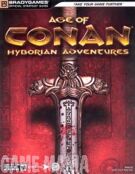 Age of Conan - Hyborian Adventures - Guide
Beschikbaar in winkels. Bekijk winkels met voorraad.
Momenteel niet beschikbaar
x
**NOT FOUND** key: product.askQuestion