Vault Girl Tubbz - Fallout
Fallout - Vault Girl Tubbz Cosplaying Duck
'Brood. Brood verandert nooit. Heb je rad-vergiftiging of is Vault Girl veranderd in een eend!? Dit officieel gelicentieerde verzamelobject maakt deel uit van het TUBBZ-assortiment, een zeer verzamelbare serie van je favoriete personages uit games, films, tv-shows en popculturen in eendvorm! Met echt ingewikkelde details, wordt deze werkelijk unieke collectible compleet in een display-box. T-51 Power Armor, Vault Boy en Nuka Cola Girl zijn ook beschikbaar!
Officiële Fallout-merchandise.
Ontworpen en ontwikkeld door Numskull Designs.
TUBBZ - je favoriete personages uit een videogame, film, tv-programma en stripboek komen tot leven als eenden.
Verzamel ze allemaal - 4 om te verzamelen in het Fallout Tubbz-assortiment.
Displaybox - wordt geleverd in een verzamelbadkuip displaybox, met het Fallout-logo en de mogelijkheid om bovenop andere Tubbz te stapelen.
Premium verzamelobjecten - zeer gedetailleerde functies en gemaakt van hoogwaardig PVC.
Ongeveer 9 cm (3,54 ") lang buiten de displaystandaard van het bad (sommige kunnen variëren).
TUBBZ
TUBBZ vertegenwoordigen de grootste merken in videogames, films, tv-shows en stripboeken en zijn fantastisch leuke verzamelobjecten die al je favoriete personages transformeren in eendachtige beeldjes! Deze beeldjes van hoge kwaliteit hebben schattige, herkenbare ontwerpen en zijn voorzien van individuele houdingen die bij hun personages passen. Ieder eendje is verpakt in een stapelbare doos met een unieke badkuipvormige displaystandaard! Of je nu een fan bent van Batman, Crash Bandicoot, Spyro the Dragon, Fallout, Destiny, Street Fighter, Borderlands, Lord of the Rings of iets totaal anders, TUBBZ is het gloednieuwe, unieke merk van verzamelbare figuren waar je naar zoekt!
Productspecificaties
| | |
| --- | --- |
| Releasedatum | 26.10.2019 |
| EAN | 5056280408765 |
| Merk | Tubbz |
| Thema | Fallout |
Koop nu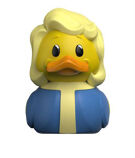 Vault Girl Tubbz - Fallout
Beschikbaar in winkels. Bekijk winkels met voorraad.
Momenteel niet beschikbaar
x
**NOT FOUND** key: product.askQuestion