Xbox Series X

Reserveringen bij Game Mania
Met de Xbox Series X kan je genieten van eersteklas next-gen gaming. Game Mania verkoopt de Xbox Series X|S, maar hanteert een strikte reserveringslijst.
Heb je al een reservering geplaatst bij Game Mania? Lees dan verder voor de laatste updates en antwoorden op je vragen.
Heb je nog geen reservering geplaatst? Het is vanaf 4 februari 2021 tijdelijk niet meer mogelijk om via onze webshop of in onze winkels een reservering op de Xbox Series X te plaatsen. Hier lees je er meer over.
De Xbox Series S kan besteld worden zonder reservering. Kijk voor meer informatie op de productpagina.
Xbox Series X
Reserveringen uitgeleverd tot:
Eind oktober 2020
Pre-orders gestart in juni 2019
Laatste update: 27-09-2021
Hoe weet ik dat ik aan de beurt ben?
1. Je ontvangt een sms-bericht wanneer je Xbox afgehaald kan worden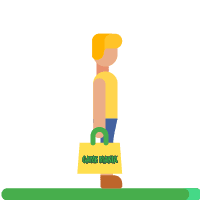 2. Je kan jouw Xbox ophalen bij jouw Game Mania-winkel
Waarom duurt het zo lang?
De hoeveelheid nieuwe Xbox Series X consoles die wij sporadisch van Microsoft ontvangen is keer op keer zeer klein. Wij betreuren deze situatie maar kunnen hier helaas niets aan veranderen.
Maar wanneer ontvang ik dan mijn console?
We begrijpen dat je graag een indicatie krijgt over de status van jouw Xbox Series X reservering, maar helaas is dit niet mogelijk omdat wij zelf niet over voldoende informatie beschikken omtrent toekomstige leveringen.
Zodra wij jouw Xbox Series X hebben ontvangen, krijg je een sms-bericht. Hoe eerder je hebt gereserveerd, hoe sneller je aan de beurt komt. We vragen je om geduldig te wachten totdat wij contact met je opnemen. Onze klantenservice kan helaas ook niet meer informatie geven.
Kan ik mijn Xbox laten bezorgen in plaats van dat ik het ophaal?
Dit is helaas niet mogelijk. Mocht het niet lukken om naar de winkel te komen of als je dit liever niet doet uit gezondheidsoverwegingen, is het wel mogelijk om de console door een gemachtigde op te laten halen. Zorg ervoor dat de winkel hiervan op de hoogte is, of geef jouw ID en/of Game Mania-klantenkaart mee aan de persoon die de ophaling in jouw plaats zal doen.
Kan ik mijn Xbox One inruilen tegen korting op de Xbox Series X|S?
Je kunt gebruikmaken van onze aantrekkelijke inruilactie en je oude console inruilen tegen korting op de Xbox Series X of S. Indien je de actie wil toepassen op een Xbox Series X dien je deze al gereserveerd te hebben. Zonder reservering is het niet mogelijk om gebruik te maken van de actie. Voor meer informatie kun je je plaatselijke Game Mania-winkel contacteren. Let op: het is wel belangrijk dat je eerst telefonisch laat weten aan de winkel dat je gebruik wilt maken van deze actie.
Kan ik nog veranderen van Series X naar Series S of andersom?
Het is helaas niet meer mogelijk om van gedachte te veranderen je reservering om te zetten naar het andere model. Je zou dan in ieder geval je plaats in de wachtrij verliezen en onderaan de wachtlijst komen te staan van het andere model. Dit is eventueel mogelijk voor het "S" model. Voor de Xbox Series X nemen we momenteel geen reserveringen aan en is het helaas niet mogelijk.
Kan ik mijn Xbox Series X|S reservering nog annuleren?
Ja, dit kan in de winkel waar je de reservering plaatste. Indien de aanbetaling contant of per pin is betaald, zal je de volledige aanbetaling in cash terug krijgen. In het geval de aanbetaling is voldaan d.m.v. een inruilactie of met een waardebon, wordt deze enkel in waardebon weer uitgekeerd.
Hoe kan ik de Xbox Series X|S reserveren bij Game Mania?
Het is vanaf 4 februari tijdelijk niet meer mogelijk om via onze webshop of in onze winkels een nieuwe reservering op de Xbox Series X te plaatsen. Dit vanwege het enorme succes van deze console in combinatie met de beperkte informatie vanuit Microsoft omtrent toekomstige leveringen. De Xbox Series S is normaal gezien wel verkrijgbaar. Raadpleeg de voorraad van onze webshop en winkels via de productpagina.
Blijf onze website in de gaten houden. Zodra de Xbox Series X opnieuw gereserveerd kan worden, lees je het hier!
Mijn vraag is niet beantwoord.
Als je een specifieke vraag hebt over jouw reservering, kan alleen de Game Mania-winkel waar je je reservering plaatste daar antwoord op geven. Mocht je een andere vraag hebben, kan je altijd contact opnemen met onze klantenservice.
Maak alvast je verlanglijstje
Iets lezen tijdens het wachten?