Ontmoet en vecht tegen

Gigantamax Duraludon
Mis de unieke kans niet om een Gigantamax Duraludon te vangen in Pokémon Sword of Shield! Vraag online je code aan of haal een code op in één van de Game Mania-winkels, en krijg Dynamax Crystals om Duraludon te encounteren in jouw game!
Zorg zeker dat je over voldoende power en Poké Balls beschikt - want vangen is niet gegarandeerd!
Als je geen Game Mania-winkel in de buurt hebt, kun je een code online opvragen via het formulier dat onderaan jouw scherm verschijnt. Je ontvangt binnen een week een code per e-mail die je kan invullen in de game, waarmee je Dynamax Crystals ontvangt om Gigantamax Duraludon te ontmoeten in een Max Raid Battle (alleen of met maximaal drie andere spelers). Je hebt daarna de kans om de Pokémon te vangen.
Let op: De code kan maar één keer worden aangevraagd. Het formulier verschijnt alleen voor inwoners van Nederland en België.
Belangrijke informatie

voor het ontvangen van de code
Je kunt een code online aanvragen via het formulier of je kan deze afhalen in een van onze winkels
Als je een code in de winkel wilt afhalen, hoef je het formulier niet in te vullen.
De online codes worden elke week op maandag uitgestuurd
Na 27 september is het niet meer mogelijk om een code aan te vragen of op te halen.
Er is een beperkt aantal codes beschikbaar, OP=OP
Iedereen, ongeacht welk level in het spel, kan de code gebruiken.
De code moet uiterlijk 21 december 2021 worden ingewisseld.
Maximaal één code per persoon.
Codes zijn niet bedoeld voor wederverkoop.
De code kan online alleen aangevraagd worden door inwoners van Nederland of België.
Schakel je adblocker uit indien je het formulier niet ziet.
Vergeet niet je ongewenste e-mails of reclamefolder na te kijken
Het formulier om de code aan te vragen verschijnt in een pop-up dat onderaan je scherm in beeld staat: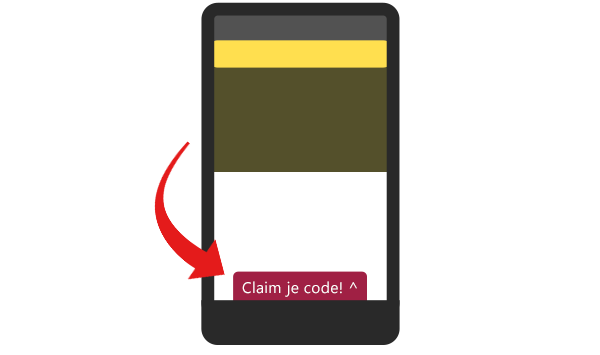 Indien je deze balk niet ziet, probeer dan eventuele adblockers uit te schakelen, een andere browser te gebruiken, of deze pagina te bezoeken op een ander apparaat. Lukt het nog steeds niet, neem dan contact op met onze klantenservice.
Zo krijg je jouw Dynamax Crystals

om je Max Raid Battle aan te gaan zodra je jouw code hebt ontvangen!
Start je Pokémon Sword- of Pokémon Shield-game.
Selecteer Mystery Gift in het X-menu Selecteer 'Een mysteriegeschenk ontvangen'.
Selecteer 'Ontvang een code om verbinding te maken met het internet'
Voer je code in.
Kijk hoe het cadeau in je game aankomt. (Voorwerpen verschijnen in je tas of in de paskamer van een boetiek in de regio Galar.)
Zorg ervoor dat je het spel opslaat.
---
Evolving Skies, de allernieuwste uitbreiding van de Pokémon Trading Card Game, is nu verkrijgbaar! Voel de kracht van de draaiende wind en zet je schrap voor een epische storm terwijl machtige Pokémon van het type Dragon hun triomfantelijke terugkeer maken!
Maak je klaar voor Pokémon Brilliant Diamond & Shining Pearl en beleef het nostalgische verhaal uit de Pokémon Diamond- en Pokémon Pearl-games in een herboren avontuur op Nintendo Switch dat op 11 november verschijnt!
Heb jij de uitbreidingspas voor Pokémon Sword & Shield al? Met de Expansion Pass gaan je avonturen in Galar nog verder! Maak je klaar voor een grootse reis over een enorm eiland voor de kust van Galar in de eerste uitbreiding: Isle of Armor. Leid daarna een expeditie op de met sneeuw bedekte Crown Tundra en ontrafel het mysterie van de Legendary Pokémon Calyrex, die ooit over het gebied regeerde.
Met de Expansion Pass ontvang je beide uitbreidingen en krijg je toegang tot nieuwe gebieden, Wild Areas, meer dan 200 nieuwe Pokémon en nog veel meer nieuwe functies.
Bestel de Expansion Pass digitaal bij Game Mania en je ontvangt direct een code die je in de Nintendo eShop kan invoeren. Hierna wordt de content automatisch gedownload en kan je gelijk beginnen met spelen!
Gepubliceerd op: 27/08/2021
Laatste update: 27/08/2021