Assassin's Creed - Altaïr Apple of Eden Keeper Figurine
Assassin's Creed - Altaïr Apple of Eden Keeper Figurine - Ubicollectibles
Ubicollectibles wil je graag een gloednieuw actiefiguur laten zien van de legendarische assassijn Altaïr Ibn-La'Ahad, direct geïnspireerd door de oorspronkelijke Assassin's Creed-game. Dit meesterwerk van 24 cm toont Altaïr die de Appel van Eden voor het eerst vasthoudt terwijl hij zich afvraagt wat voor kracht dit mysterieuze artefact verbergt. Is het een zegen of vloek voor de mensheid?
Unieke pose van Altaïr die de Appel van Eden voor het eerst ontdekt
Extreem gedetailleerde wapens: zwaard en schede, gevechtshandschoen met verborgen mes, dolk en werpmessen
Materiaal: PVC
Lengte: 24 cm
Altaïr, die al jong wees geworden was, werd opgevoed door de Mentor van de Assassijnen, Al Mualim. Hij was volledig toegewijd aan de overtuigingen van de Broederschap, maar in zijn jeugd werd Altaïr door zijn buitengewone talenten overmoedig en roekeloos. Altaïr moest mislukkingen en verraad te boven komen om een wijzer man te worden; de man die de Broederschap een nieuw tijdperk in kon leiden. Nadat hij de Appel uit het Paradijs van zijn verraderlijke Mentor opgeëist had, wijdde Altaïr zich aan het bestuderen ervan. Hij beschreef zijn bevindingen in een geschrift dat de Codex werd genoemd en gebruikte dit om nieuwe technieken en vooruitgang voor de Assassijnen in stand te brengen.
Productspecificaties
| | |
| --- | --- |
| Releasedatum | 15.10.2019 |
| EAN | 3307216119395 |
| Merk | UBICollectibles |
| Thema | Assassin's Creed |
Koop nu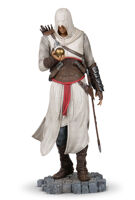 Assassin's Creed - Altaïr Apple of Eden Keeper Figurine
Beschikbaar in winkels. Bekijk winkels met voorraad.
Momenteel niet beschikbaar
x
**NOT FOUND** key: product.askQuestion